New Avatar Press books in Comic Shops this week on Wednesday 11/20:
Night of the Living Dead: Aftermath #12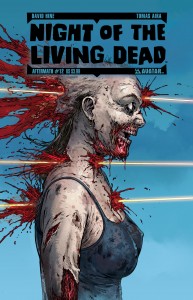 PRODUCT DESCRIPTION:?? The end is here as DAVID HINE tells the final bloody chapter in the Night of the Living Dead: Aftermath story.? The excessive 1970s have given way to the dawn of the undead.? Zombies have overrun the defenses that held them in check and turned major American cities into shambling ghoul towns.? We started our journey with the Las Vegas survivors and our tale of misery ends with them.?? Available with Regular cover by Matt Martin, Gore & Wraparound cover by German Erramousepe, and Terror Retailer Incentive cover also by Martin
Stitched #17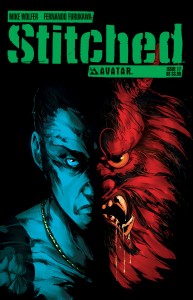 PRODUCT DESCRIPTION:? The once-undisputed Yakuza rulers of Tokyo's Harajuku District find themselves the victims of unexplainable ambushes. They are being killed and transformed into a stealth strike force of undead, bloodthirsty Stitched! In league with the shadowy "Nameless One" who has brought the supernatural magic of the Stitched from the Middle East, businessman Kenji Nakamura's dream of revenge on the villainous Shinju-kai is about to be realized. Available with a Regular, Wraparound, Gore, and special Slashed Incentive cover by series artist Fernando Furukawa.
Visit the Comic Shop Locator Service to find a local comic book store near you -?http://www.comicshoplocator.com/Home/1/1/57/575