New Avatar Press books in comic shops this week on Wednesday 12/18/13:
Crossed: Badlands #43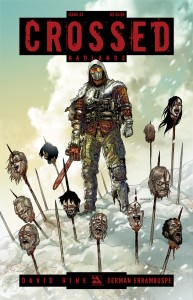 PRODUCT DESCRIPTION:? The end of the ?Gore Angels? story arc is one of the most devastating final chapters of Crossed ever told!? Horror master, DAVID HINE has taken us into the broken mind of an abused girl and spun out her revenge fantasies across the page.? But are you ready for bloody misery that comes with the Crossed infection spreading across Japan?? No one is safe from the horror and misery of the Crossed?no one.? Available with a Regular and Torture covers by Jacen Burrows, Wraparound cover by Gabriel Andrade, and special Red Crossed Incentive cover also by Burrows.
Extinction Parade #4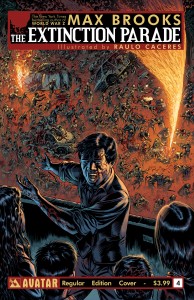 PRODUCT DESCRIPTION:? This year?s biggest horror comic continues its brutal march towards annihilation!? His books on zombies have entertained millions of readers and now MAX BROOKS redefines vampires as he brings an all-out war of the undead!? Zombies have been at best a nuisance to the vampire race for thousands of years but never a real threat.? Their clumsy foothold over humans has always been beaten back.? But this time the tide of shambling dead have turned the corner and are rapidly depleting the ranks of the living.? Even with their superior abilities and ferocity, can the vampire race find a way to stop the decimation?? Available with Regular, Wraparound, End of a Species and Bloodwashed Retailer Incentive covers by Raulo Caceres. Also, available with a special black Leather cover, limited to just 1000 copies!
Visit the Comic Shop Locator Service to find a local comic book store near you -?http://www.comicshoplocator.com/Home/1/1/57/575