The following Avatar Press comics are new to ComiXology on Wednesday 12/24/13:
Chronicles of Wormwood: Last Battle #1-6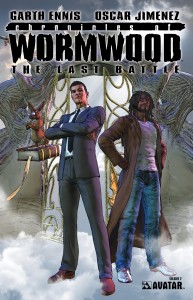 PRODUCT DESCRIPTION: ?Garth Ennis returns to the fan-favorite Chronicles of Wormwood series! Jimmy the Rabbit, Jay, and Danny Wormwood, the Anti-Christ himself, are back in a new full-color six issue series that promises to provide everything you love about Ennis! Danny has started to get his life back together after averting the apocalypse, and getting rid of God and Devil. But Hell might be getting taken over by something even worse, Pope Jacko! Series artist Oscar Jimenez provides the stunning cover and interior art. Ennis drags the whole world into the gutter with his trademark razor-sharp dialogue, biting wit, and the stunning art of Jimenez.
Dicks #6 – 10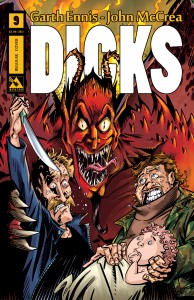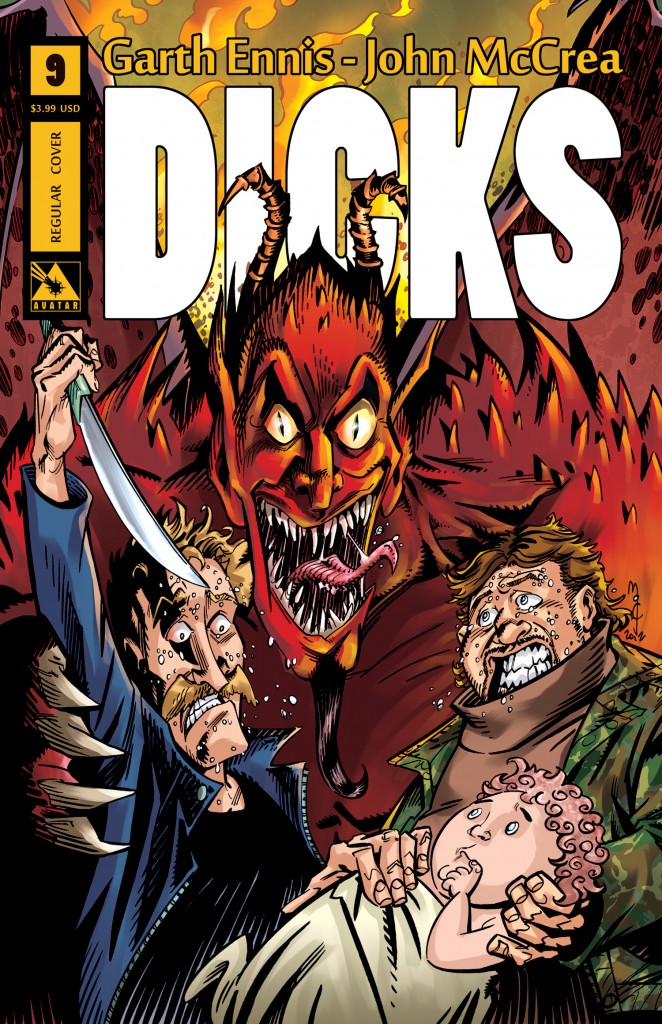 PRODUCT DESCRIPTION: ?Garth Ennis and John McCrea have insulted just about everyone there is in the pages of Dicks. Or have they?? Dougie and Ivor are now going where no idiot has gone before. Space.
Featuring the Christmas and New Years special issues #9- 10: ?It?s Christmas with the Dicks! If you always thought it was a bit obscene to leave a large stiff peppermint stick for a fat old elf, then strap on your jingle bells and get ready to do up the holidays with Dougie and Ivor. Nothing is sacred to these two scallywags and if you think a little holiday cheer is going to have them singing Silent F@#king Night, you got another thing coming. Join Garth Ennis and John McCrea in an exercise in obscenity that will forever taint your yuletide memories.
Escape of the Living Dead: Airborne #1 – 3 ?& Escape of the Living Dead: Fearbook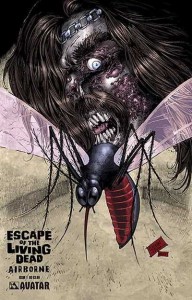 PRODUCT DESCRIPTION: ?John Russo's Escape of the Living Dead returns will an all-new tale of the continuing spread of the zombie virus… But now, it's taken a different and even more treacherous turn! In the back woods of Pennsylvania in 1971, a bus filled with San Francisco-bound hippies and flower children are about to find "peace and love" replaced with "fight or die" as they are attacked in an unthinkable onslaught by flesh-hungry zombies. Stranded, trapped and surrounded by the living dead who lurk in the dark waiting to feast upon their gory remains, the ragged group of heroes will begin to fall, one by one… And that's before the arrival of enigmatic, zombie messiah Deadhead! There are no rescuers, no defense and no hope for survival after the Escape Of The Living Dead!
Night of the Living Dead: Specials – ?Holiday Special, Just a Girl, & New York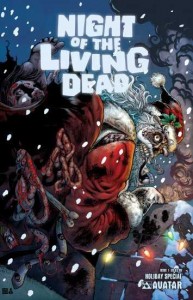 PRODUCT DESCRIPTION: ?Ho ho ho 'tis the season…for zombies! Mike Wolfer unleashes the NIGHT OF THE LIVING DEAD HOLIDAY SPECIAL and brings a new brand of terror home for the holidays! There will be more than just chestnuts roasting on an open fire as a large family gathers to celebrate the season, a raging snowstorm has buried their remote, mountain farmhouse in virgin snow, with no way in, and no way out. But a dark, despicable family secret that lay buried in the barn will not stay dead, and the resulting orgy of bloodshed, murder and cannibalism will transform this into anything but a silent night! Warn your children: This year, it is NOT Santa Clause coming down the chimney!