The following Avatar Press comics are new to ComiXology on Wednesday 1/29/14:
Same Day as Print:
Crossed: Badlands #46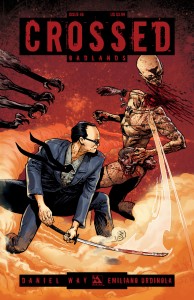 PRODUCT DESCRIPTION: DANIEL WAY?s bloody Crossed story continues as the seaworthy survivors try to find their way among the infected. Horror comes in all shapes and sizes, and the crew of the Coast Guard ship is about to find that out in most heinous fashion. The Captain thought he knew the Crossed, knew the rules for dealing with and outlasting them. But in a world full of maniacs, the only rule you can count on is an unpredictable grueling and violent ending.
Uber #9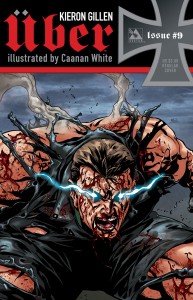 PRODUCT DESCRIPTION: KIERON GILLEN and CAANAN WHITE welcome the New Year with more enhanced horrors in the Pacific Theater. Uber changed the way World War II ended and now an extended period of suffering has escalated the losses for both sides. Japanese deployment of super soldiers has given rise to new nautical terrors. And no one could see the conflict taking this turn as the Allies attempt to cope with the devastating new weapons of war. Enter the new World War II with the arms race now focused upon developing super human warriors and the utter annihilation of entire armies.
New to ComiXology
Doktor Sleepless #11 – 13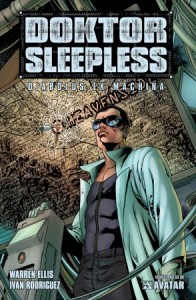 PRODUCT DESCRIPTION: ?People are hunting Doktor Sleepless. There's a journalist on the streets trying to unpick his skein of lies and half-truths. There's a killer on the streets who wants to save the world from him. There's an old colleague with a gun who wants to ask him some questions. There's Grinders waiting for him to tell them what to do, there are people wondering why their city seems to be falling apart around them and looking for someone to blame… and no-one's seen Doktor Sleepless in weeks. Police Commissioner Preston Stoker, watching his city burn, has to wonder — what is the mad scientist out to destroy everything planning now? Warren Ellis' satirical-political science fiction novel continues its decent into madness.
Streets of Glory #1 – 6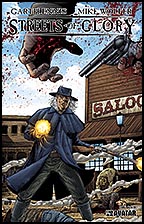 PRODUCT DESCRIPTION: ?Garth Ennis re-defines the Western with this sweeping six issue epic. Joe Dunn is one of the last bastions of the old guard drifters, those men that could be trusted to defend the common man with integrity, honor, and if need be, hot steel of death. Dunn has been away from Montana for more than 15 years, lost to all who knew him. Now he comes riding into a small town, Dunn still representing the best of the past, an era quickly fading. But it is 1899, the way things are done is changing, the future is coming. But before he is done making things right, the bodies will pile up while the streets run red with glorious blood. Ennis teams with Mike Wolfer for this epic full color series that promises to thrill every fan of Garth's powerful story-telling and brutal violence.
War Goddess #0 – 5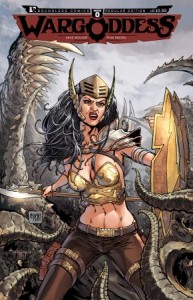 PRODUCT DESCRIPTION: ?Mike Wolfer delivers a whole new World that is populated by re-imagined versions of some of the most popular indy characters! For centuries, the sins of man ravaged the Earth, and our only salvation lay in the hands of the very being who first unleashed that evil upon us. But the unending battle has finally been won, the mythical box has been closed, and the immortal Pandora has settled into a life of exploration of the world her impulsive actions once nearly destroyed. But true evil cannot be contained forever, and an even more hideous scourge is about to be released upon the dimension of the living in an invasion of cataclysmic proportions. Only a true War Goddess could face such insurmountable odds, but when the incursion from the dark dimension begins in the form of the demon assassin Hellina, Pandora knows that a defense force of supernaturally-powered allies is mankind's only hope. And her first recruit is the woman-spider Widow, whose horrific savagery and thirst for blood might be the only thing that lies between victory, and total and eternal Hell on Earth!