New Avatar Press comics in stores Wednesday 2/5/14:
God is Dead #6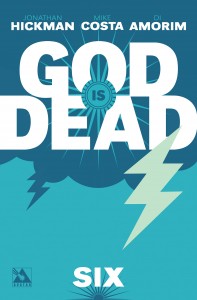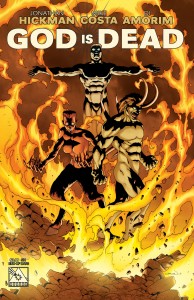 PRODUCT DESCRIPTION: The battle of the gods is over and one stands supreme above all of the world. ?This is truly the end of days?until the gods of humankind are born and rise up. ?From the very DNA of the gods, man has once again taken pride and hubris to the very brink. ?Three who would formerly oppose the gods as mortals now walk as the divine. ?And they must use their newfound divinity to battle the very god of gods. ?JONATHAN HICKMAN?s unique vision of a world literally facing divine destruction brings its first chapter to a close with the most shocking of endings. ?Available with a Regular cover by Jonathan Hickman, End of Days cover, Iconic, and Gilded Order Incentive copies by Jacen Burrows and a special Carnage Wraparound by Rafa Ortiz.
Rover Red Charlie #3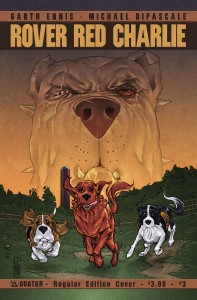 PRODUCT DESCRIPTION: ?These three canine companions have traveled out of the city, into the countryside and are now in unknown land fraught with danger. ?GARTH ENNIS delivers a story like no other, as an unlikely band of canines set out to survive in a world gone horribly mad and fully-painted by Michael Dipascale. ?Step into the mind of man?s best friend in a story that is one part Animal Farm and 100% Ennis! Available with a Regular, Wraparound, and a Dog Days Order Incentive cover by series artist Michael Dipascale.
Visit the Comic Shop Locator Service to find a local comic book store near you – http://www.comicshoplocator.com/Home/1/1/57/575