New Avatar Press comics on ComiXology Wednesday 3/19/14:
Same Day as Print:
Crossed: Badlands #49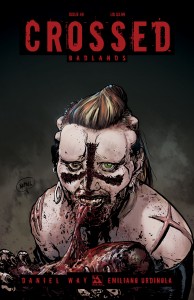 PRODUCT DESCRIPTION: DANIEL WAY?s horrific Crossed story concludes with the full misery of the worst of humanity unleashed. Dreaming of a way out of the world?s horrors usually only leads to a violent and devastating death at the hands of the infected. After years of careful observation and planning, that message falls upon deaf ears until the bitter end. Now the captain faces the rotten fruits of his labors and the gleeful hate in every Crossed monster.
Gravel: Combat Magician #2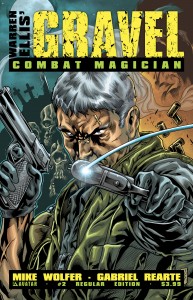 PRODUCT DESCRIPTION: The new adventures of William Gravel continue! Pressed into military service after his release from prison, Gravel finds that much has changed since his incarceration. Not only has the Combat Magician program for which he once instructed been practically abandoned by the British S.A.S., but the recruits who graduated the program have been less than stellar applicants, and none of them properly trained. Meanwhile, one man has turned the Tokyo subway system into his own personal abattoir, and it appears to be done using combat magic!
God is Dead #9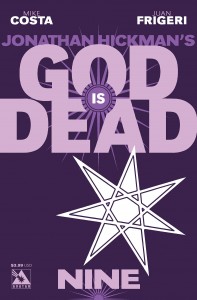 PRODUCT DESCRIPTION: Man?s hubris truly does know no bounds. Albert has negotiated a coalition of gods to turn their wrath upon Gaia in an attempt at breaking her hold on the world. But can his sight be truly that finite to not recognize the tsunami of misery his actions may bring down upon the world? And as the titans prepare to battle for dominance, Ivy finds the shocking secret that turned a group of scientists into the gods that would inherit the earth. MIKE COSTA turns the intensity and darkness up a notch with his dramatic new stories about humanity at the brink.
New to ComiXology:
Aetheric Mechanics GN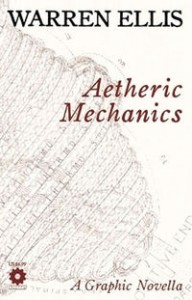 PRODUCT DESCRIPTION: ?Warren Ellis turns his spark of mad genius to bring us a fantastical tale in this all new original graphic novel illustrated in detailed perfection by Gianluca Pagliarani. The year is 1907, and Britain has entered into a terrifying war with Ruritania, whose strange metal planes darken the skies, and whose monstrous war engines cast looming shadows from across the channel. Doctor Robert Watcham, lately returned to London from the front, makes his homecoming to Dilke Street. There lives his old friend, and England's greatest amateur detective, Sax Raker. Even as his beloved city prepares for war, Raker is himself about to embark on the strangest (and, perhaps, the most important) investigation of his career: The case of the man who wasn't there. This is no simple matter of murder — Sax Raker faces haunting questions to which there are no cut and dried answers. Is the mysterious killer, at last, evidence for Raker's long-held belief in a secret criminal mastermind? Is it some apparition uniquely belonging to this singular city, a place that seems to have lost all semblance of sense two years ago? Or do all the signs point to something much, much worse? This may very well be the last case for our Raker: a spinning tale of mystery, a tangled story of science, a twisting account of thwarted love, a fleeting glimpse into the aetheric mechanics of the world itself… and, of course, death.
Atmospherics GN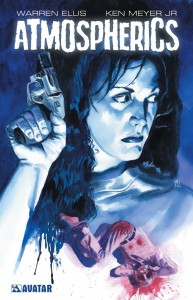 PRODUCT DESCRIPTION: ?Warren Ellis and painter Ken Meyer unleash a totally re-mastered and fully-painted color version of this terrifying alien tale! She's in a hospital. Except it may be a police station. She's been traumatized. Or she's been arrested. She's the only living witness of a cattle-mutilation style attack on humans. Or she's a multiple killer who has a psychotic reaction to heroin use who may not survive discovering who she really is. This graphic novel also features an introduction by Warren Ellis!