New Avatar Press new titles in comic shops Wednesday 4/16/14:
God is Dead #11
PRODUCT DESCRIPTION: ?Albert accomplished his goal of drawing more deities into the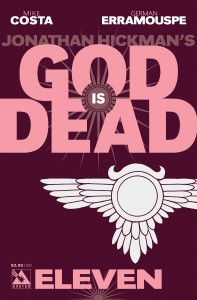 world?and now the Earth will burn. ?Man?s hubris truly does know no bounds. ?Can the human race find a way to co-exist with gods walking among them? ?Or will this be the final chapter in the book of Armageddon? ?MIKE COSTA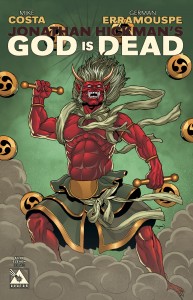 delivers the intensity and darkness in the ongoing tale of humanity at the brink of destruction. ?Available with not only a Regular cover but also an End of Days cover, Iconic, and Gilded Order Incentive copies by Jacen Burrows and a special Carnage Wraparound by German Nobile.
Rover Red Charlie #5
PRODUCT DESCRIPTION: ?Long gone are the days of treats and dog parks. ?Rover, Red,
and Charlie near the end of their canine odyssey as they discover the trail to their final destiny. ?As the feeders? world collapses around them, these three best friends continue to search for the new path in this post-apocalyptic world. ?And with the very forces of nature seemingly against them, the trio must find a way to the Big Splash. ?GARTH ENNIS, the master of original horror, has crafted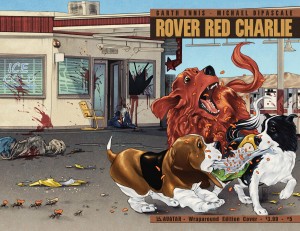 a story that eloquently reveals the best and worst in human nature through the actions of man?s best friend. ?Available with a Regular, Wraparound, and a Dog Days Order Incentive cover by series artist Michael Dipascale.
Visit the Comic Shop Locator Service to find a local comic book store near you – http://www.comicshoplocator.com/Home/1/1/57/575