Garth Ennis is known for his imaginative characters and incredible dialogue. ?But no one suspected that a series about dogs at the end of the world would be as moving as Rover
Red Charlie turned out to be. ?It is the story of three canine best friends as they attempt to live and learn how to survive in a world without keepers. ?Dog lovers and comic book fans everywhere have latched onto these three friends and are watching with anticipation to see where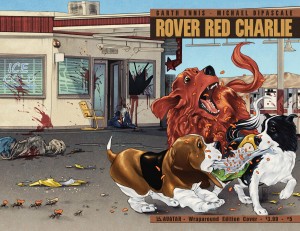 their journey takes them.
Ennis has perfectly captured the voice of these dogs in a way that was both unexpected and admired. ?So many fans now say that when they hear a dog barking they immediately think "I'm a dog! I'm a dog! I'm a dog!" as the dogs in the series exclaim with each bark and howl. ?The art of Michael Dipascale has shown an incredible range of emotion and expression from these dogs making them seem even more like the animals that we keep as pets and ?parts of our own families. ?And as the journey from the dying city to the bigger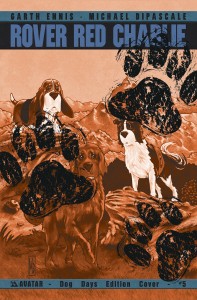 splash nears its end, people are hailing the series as one of the freshest comics of the year. ?This week Rover Red Charlie #5 will be out in comic shops and the final issue will arrive in just about one month. ?Enjoy the journey these friends take and be ready for the final revelations to come.
Rover Red Charlie is a monthly six issue series from Avatar Press.