Warren Ellis, the master scribe behind some of the biggest comics and graphic novels of the past twenty years, has a massive library of titles from Avatar Press. ?This week, in celebration of the innovation and creativity of his comics, there is a special digital bundle sale at ComiXology where you can save up to 44% off normal prices for Gravel and Wolfskin.
https://www.comixology.com/Save-On-Avatar-Warren-Ellis-Bundles/page/1380
Gravel #0-21 (22 comics bundle) $24.99
Product Description: ?Magic. The kind of magic that can strip the skin from a screaming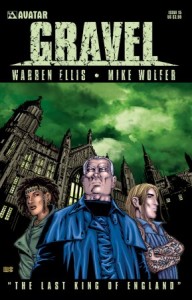 man's skull, or direct the path of a shrieking bullet through a maze of city streets, striking its target between the eyes with pin-point accuracy. This is not just magic… This is Combat Magic, wielded by Sergeant Major William Gravel, Warren Ellis' cult-hit sensation from the pages of STRANGE KISS and STRANGE KILLINGS, now in his own full-color series! From war-torn Afghanistan to the deceptively mundane streets of London, this special introductory chapter sets the stage for a tale so dark, twisted and disturbing that it could only have sprung from the mind of Warren Ellis. SAS soldier Gravel has returned home, only to find that another has taken his place in the mysterious enclave of Britain's seven Occult Detectives. Worse, the seven are now in possession of the legendary Sigsand Manuscript, a supernatural device that could bestow its keepers with a most vile and terrifying power. Gravel has a new mission, one that will be filled with his own unflinching brand of horrific and bloody violence.
Wolfskin #1-3, Annual, Hundreth Dream #1-6 ?(10 comics bundle) $9.99
Product description: ?From the time before history began: from the time when the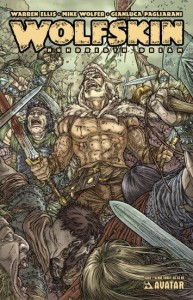 continents were still connected by land: from the harsh climes at the top of the world, a Northish soldier wrapped in a cape of wolfpelts walks south, into the forests of the High Midlands that are now Europe, to find a village cut in two by travelers from the East. Soon, he too is torn – between duty to the lives he has ruined just by finding them, and duty to the hideous murder-god of the Northish wastes and the berserker drugs that are his sacrament… Warren Ellis cuts loose to unleash his take on the genre fans demanded he assault with full color art from Juan Jose Ryp! WOLFSKIN fuses heroic fantasy in the mode of CONAN, the Viking sagas, and samurai fiction into a single story of weird history and apocalyptic violence.
Better hurry – sale ends Sunday 4/20!