New Avatar Press new titles to ComiXology Wednesday 5/14/14:
Same Day as Print:
Gravel: Combat Magician #4
PRODUCT DESCRIPTION: ? ? After agreeing to once again assist with the British SAS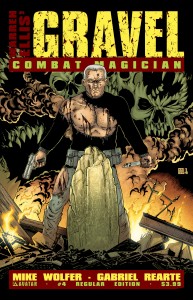 Combat Magician Programme, Gravel has completed his first assignment after his release from prison. A rogue British CM who was terrorizing the Tokyo subway system has been nullified, but Gravel finds that there's no way for him to disappear from the scene now that he's been cornered in the underground tunnel system by a trio of Japanese Combat Magicians. And to make matters worse, the chip of ancient megalithic stone which was accidentally embedded in his chest is siphoning his offensive, occult powers. But Gravel is far from defenseless. Above all else, he's an SAS soldier, and who dares wins!
Uber #13
PRODUCT DESCRIPTION: ? ? Uber Year II? continues to change the way we look at uber-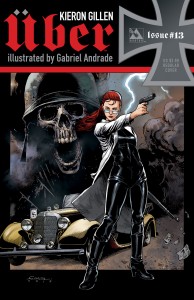 altered history stories as KIERON GILLEN?s war epic rages on. Katyusha was a misfit to the end. When she activated as an Uber, she escaped and wandered the countryside hoping to make it all the way to the Ukraine. But Russia sacrificed everything to make its own tank-men and the Soviet Union would not let someone so powerful walk away. Now Katyusha has found a new home?but the horrors of war are never far behind. This arc of unthinkable atrocities is illustrated by GABRIEL (Ferals) ANDRADE.
Uber: The First Cycle FCBD ED
PRODUCT DESCRIPTION: ? ? An ideal entry point into the world of Uber!? Kieron Gillen and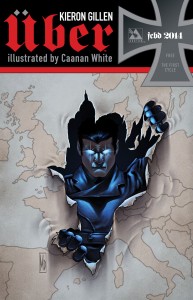 Caanan White electrified the comics community with their runaway hit, UBER in 2013.? Now the creative team that revolutionized the super soldier genre is presenting a special Free Comic Book Day edition, Uber: The First Cycle!? This is a history book told with the events of the first two story arcs woven into real-World history and with tons of all-new writing from Gillen, special new art and sneak-peaks of upcoming pages.? This issue will bring readers new and old up to speed on the first two arcs of the Uber series, without ruining all the fun of reading the collected editions.? It also serves as a direct teaser into the summer 2014 Uber story that promises to be the biggest and most shocking yet!
New to ComiXology:
Hero Worship #1-2
PRODUCT DESCRIPTION: ? ? ?The biggest superhero screen writer in the World comes to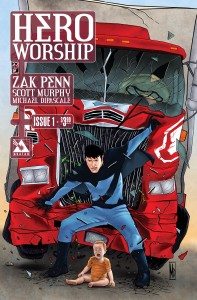 comics for the first time! Zak Penn (writer of the Avengers movie, X-Men II & III movies, and the Alphas TV show) and Scott Murphy (lead writer of Star Wars The Clone Wars) spin a tale about the ultimate celebrity, an indestructible superhero called Zenith, and the rabid fans that worship him. Legions of adoring fans follow every disaster trying to speculate where they can catch a glimpse of their modern messiah. What happens when an unhealthy obsession leads to one fan getting super powers of his own?