New Avatar Press new titles in comic shops Wednesday 5/14/14:
Gravel: Combat Magician #4
PRODUCT DESCRIPTION: ? ? After agreeing to once again assist with the British SAS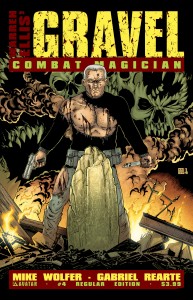 Combat Magician Programme, Gravel has completed his first assignment after his release from prison. A rogue British CM who was terrorizing the Tokyo subway system has been nullified, but Gravel finds that there's no way for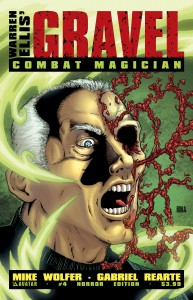 him to disappear from the scene now that he's been cornered in the underground tunnel system by a trio of Japanese Combat Magicians. And to make matters worse, the chip of ancient megalithic stone which was accidentally embedded in his chest is siphoning his offensive, occult powers. But Gravel is far from defenseless. Above all else, he's an SAS soldier, and who dares wins!? ?Available with Regular, Wraparound, Horror, and a Black Magic Order Incentive cover by Mike Wolfer.
Uber #13
PRODUCT DESCRIPTION: ? ? ?Uber Year II? continues to change the way we look at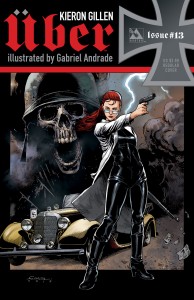 altered history stories as KIERON GILLEN?s war epic rages on. Katyusha was a misfit to the end.? When she activated as an Uber, she escaped and wandered the countryside hoping to make it all the way to the Ukraine.? But Russia sacrificed everything to make its own tank-men and the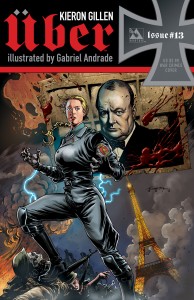 Soviet Union would not let someone so powerful walk away.? Now Katyusha has found a new home?but the horrors of war are never far behind.? This arc of unthinkable atrocities is illustrated by GABRIEL (Ferals) ANDRADE.? Available with Regular, War Crimes, and Wraparound covers by Gabriel Andrade, Propaganda Poster cover by Michael Dipascale, and a special Blitzkrieg Incentive cover also by Andrade
To find a local comic shop visit the Comic Shop Locator Service: ?http://www.comicshoplocator.com/Home/1/1/57/575