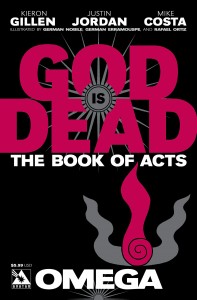 Hot on the heels of the announcement of Alan Moore's headlining the upcoming event in God is Dead: Book of Acts Alpha comes the news that Kieron Gillen will write a story in its companion piece God is Dead: Book of Acts Omega! ?Gillen has been one of the hottest writers in all of comics over the past five years. ?His titles like Phonogram, Journey into Mystery, and the incredible Uber series have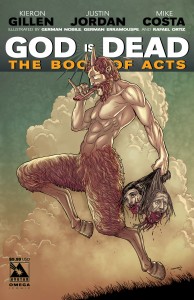 gained a tremendous following in comic shops. ?The scribe will now make his mark on the God is Dead universe as he tells a story about Alastor, the demon assassin who sees terrible opportunity in this new world of divine vengeance.
Also on the docket in this amazine issue is a story by Justin Jordan who unleashes a dark tale about Pan and his mortal vices. ? And the final mystery of just who killed God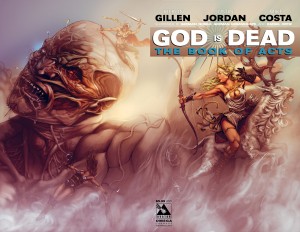 is revealed as series writer Mike Costa unwraps the most galactic murder mystery of all time.
The series features covers by Crossed artist Jacen Burrows and interior art by some of Avatar's finest creators, including German (Caligula) Noble, German (NOTLD) Erramouspe, and Rafael (Dan the Unharmable) Ortiz. ?Don't miss the biggest event in the God is Dead universe this summer! ?Ask your local comic shop to reserve copies for you today.