The first chapter of Max Brooks' masterful Vampires versus Zombies arrives in comic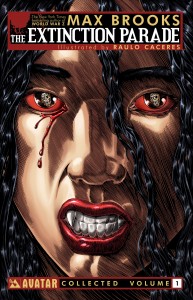 shops today with the Extinction Parade Vol 1 TP. ?Brooks is well known for his zombie fiction with New York Times Bestsellers World War Z and the Zombie Survival Guide leading the way with his legions of fans.
Extinction Parade takes his undead musings a step further with a scathing commentary on privilege and entitlement. ?This story is so much more than just a battle royale of the undead. ?And the trade paper back is the perfect place to read the full vision of Brooks' unique approach just in time for the upcoming second chapter in the pages of Extinction Parade: War #1 due out in just one week on 7/2.
Check in with your local comics retailer to purchase copies of this groundbreaking work today!