New Avatar Press Comics on ComiXology this week Wednesday 7/30/14:
Caliban #5
PRODUCT DESCRIPTION: ? ? GARTH ENNIS, the creator of Preacher and Crossed, has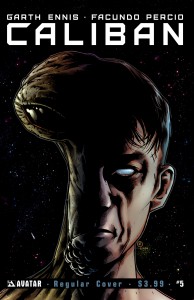 delivered a space horror like no other in Caliban. Most of the crew were voided into space when the ships merged. But those left behind are experiencing a creeping dread as the quantity of survivors keeps falling at the hand of Karien. Desperation is the currency of the hour as the final few attempt to understand and escape the misery unfolding on the doomed mining ship. No one is safe in dead space.
Crossed: Badlands #58
PRODUCT DESCRIPTION: ? ? JUSTIN JORDAN continues his reign of terror as this story of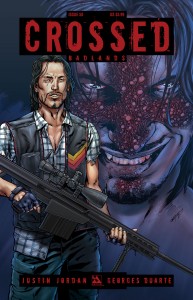 depravity as the savior may not be what he appears. Crossed chronicles the vilest atrocities that man is capable of and there are no safe areas to hide. In a world of grinning maniacs, there is no help. There is no hope. There is only the Crossed.
George R.R. Martin's In the House of the Worm #1
PRODUCT DESCRIPTION: ? ? The biggest name in fiction, GEORGE RR MARTIN, opens the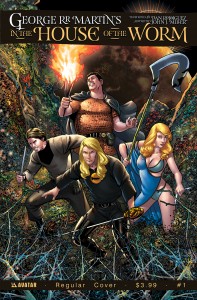 story vault as we adapt a tale of dark fantasy to comics for the first time with In The House of the Worm. Beneath a ruined city on a forgotten planet lies a world of plots and revenge. When Annelyn is embarrassed in front of his noble friends by the Meatbringer, he sets forth a devious plan that is meant to gain vengeance. But the terrible truth of the dire White Worm turns his ploy into folly in terrible fashion. Join a master storyteller as he spins a uniquely mysterious tale and reveals new worlds of wonder and horror.
God is Dead #17
PRODUCT DESCRIPTION: ? ? ?Jesus Christ walks the earth once again. But gone are the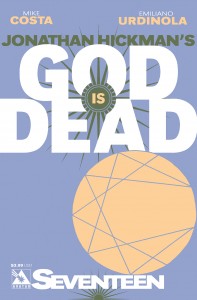 visions of his pity and sacrifice. Now the world trembles as the returned gods struggle to grasp the last piece of humanity for themselves. Join the ranks of the blasphemous as MIKE COSTA delivers a story that will take you screaming into the pits of Hell.