Come see your favorite Avatar creators at these special signing events this week during San Diego Comic Con at booth #2701! ?These are the very special San Diego Comic Con exclusives they will be signing:
Signings / Panel times.
Wednesday 7/23
Avatar Press Booth #2701
6:00 to 7:00?- George R.R. Martin signing ?(super limited – 35 tickets available!)
6:30 to 8:30?- Mike Costa signing
Thursday 7/24
12 to 1 pm?- Max Brooks Signing
1:30 pm – 2:30 pm
– Panel – Avatar Press – Room: 4 ??with Max Brooks and William Christensen
3 to 6 pm?- Max Brooks signing
4:00 – 5:00 pm – ?George R.R. Martin Room Indigo
Friday 7/25
11:00 am – 12:30 pm?- Max Brooks Signing
2:00 to 4:00 pm?- Max Brooks Signing
4:30 pm – 5:30 pm
– Panel – Max Brooks – Zombies vs. Vampires: The Extinction Parade Survival Panel, Room: 5AB
5:45 to 7:00 pm?- Max Brooks signing
Sat 7/26
12:00 to 3:00??- Max Brooks signing
5:00 to 7:00?- Max Brooks signing
?San Diego Exclusives:
GOD IS DEAD #16 Minotaur
PRODUCT DESCRIPTION: ? ? Ultra-limited San Diego exclusive of just 250 copies! ?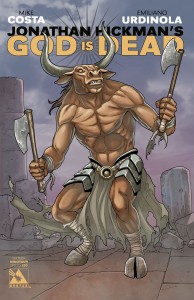 JONATHAN HICKMAN?s vision for a world on the brink of destruction under the whim of the divine continues.? MIKE COSTA has increased the insanity as the Son of God returns to deliver an unexpected message.? For centuries man has prayed for the Christian Savior to return? but in a world of divine conflict that prayer may be the undoing of the human race.
Extinction Parade War #1 Face Off
PRODUCT DESCRIPTION: ?San Diego exclusive limited to just 500 copies! ?Jump on here,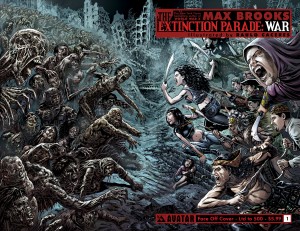 as the epic conflict continues right after Vol 1 with a super-sized battle issue!? MAX BROOKS returns to the frightening world of zombies versus vampires in his groundbreaking follow up series: Extinction Parade: War!? Well known for his breathtakingly original fiction, Brooks pushes the limits of the horror genre with his trademark meticulous research and vision for the next evolution in zombie storytelling.? The subdead were always a joke to the aristocratic vampire race.? Just a spec on the radar of their immortal lives, nothing worth even a moment?s notice in their quest for self-gratification through the veins of their host, the human race.? But at last they have been pulled from their ignorance into the reality of the world.? The human race is facing extinction and should they succumb so too shall the vampires disappear beneath the waves of rotting walking dead.? Extinction Parade: War opens the doors to the next violent chapter in Brooks? epic tale with an oversized issue starting the all-out battle for the survival of the races!
Crossed Badlands #50 Speed Kills
PRODUCT DESCRIPTION: ? ? San Diego Exclusive edition of 750 copies! ?The most highly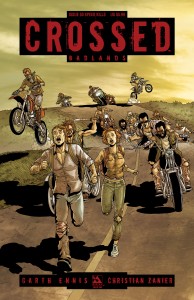 anticipated Crossed story ever is finally here! GARTH ENNIS the creator of Crossed, returns to the miserable world he created to take us all the way back to the beginning with an unforgettable tale of the fabric of society unraveling. ?From the first issue of Crossed fans have wondered how it all began. ?Was it an act of god? ?Did it begin as a man-made bio-weapon? ?Is it the final evolution of human kind? ?Now, after more than five years of horror, Ennis reveals his "Patient Zero"? in this seven part epic drawn by CHRISTIAN ZANIER. ?Join the master of modern horror and all of the Crossed Nation faithful as they get a front row seat for the biggest issue of Crossed since it debuted!
Caliban #1 Silent Killer
PRODUCT DESCRIPTION: ? ? ?San Diego exclusive edition of just 850 copies! ?Master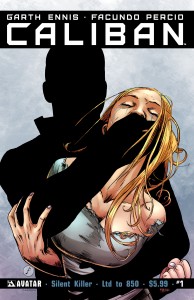 storyteller GARTH ENNIS and Fashion Beast artist FACUNDO PERCIO team up to deliver a haunting new epic of science fiction horror.? The crew of the Caliban travels?hyperspace on nothing more than a routine trip for the giant vessel.? Just human beings that have been inside a bit too long, confident of no other life in the Galaxy, and all the vastness of space to remind them how far they are from home. ?But when an impossible accident suddenly causes the Caliban to slam into an abandoned alien ship, a nightmare in space begins to unfold.? ?Ennis delivers his unique brand of flawed characters, spot-on dialog, and trademark flare for the unexpected in a new series in the vein of Alien.? This is the beginning of the end for the crew of the Caliban.? Available with Regular, Wraparound, Terror, and Design Sketch Incentive covers by Facundo Percio and a ultra-limited Dark Matter edition of just 1500 copies.
George R.R. Martin's Skin Trade San Diego Exclusive Collection
PRODUCT DESCRIPTION: ? ? ?The most popular fantasy author of the 21st Century,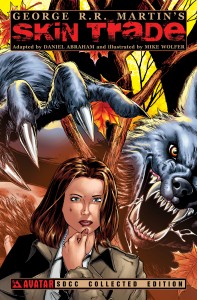 GEORGE R.R. MARTIN, brings his World Fantasy Award winning short story to graphic novels with SKIN TRADE! Randi Wade is a survivor. She followed in the footsteps of her father, became a cop, and now is working the P.I. trade. But her past still haunts her. What's worse, the vicious animal attacks that took her father?s life have sprung up anew claiming victims once again in this sleepy town. Martin?s unique creative voice spins a modern day classic horror tale of murder, werewolves, and bladed demons. Illustrated by long time horror comics creator MIKE WOLFER and adapted for comics by Martin?s Hugo Award nominated collaborator DANIEL ABRAHAM, this graphic novel is a suspenseful master tale dripping with blood and revenge. Skin Trade represents the best of old school werewolf stories told with modern characters and action. From the creator of A GAME OF THRONES comes a graphic novel that will keep you guessing right up to the last page!