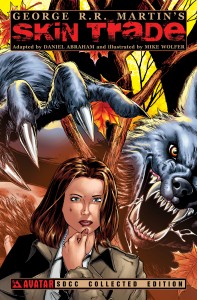 Avatar kicks off San Diego Comic Con with an incredible opportunity to meet George R.R. Martin! ?At 6:00 on Wednesday 7/23 as the doors for Preview Night open, there will be a signing limited to just 35 lucky fans at the Avatar Press booth #2701. ?For $35 these lucky fans will receive the Skin Trade San Diego Exclusive collection, In the House of the Worm #1, and the Fevre Dream Trade Paperback signed in person by the man himself – George R.R. Martin! ?You can preorder the signing ticket to reserve a spot in line right now:
http://www.comcav.net/collections/san-diego-comic-con-2014-exclusives/products/george-r-r-martin-san-diego-2014-signing-ticket-and-books
And if you are lucky enough to get one of the limited signing tickets they will be waiting for you at the Avatar booth for you to get personalized from George R.R. Martin! ?You can also have up to two additional items signed with this ticket, so bring your novels or DVDs as well! ?There is n0 better way to start your week at San Diego Comic Con than with a George R.R. Martin meet-and-greet! ?As soon as the doors open – rush over to Booth #2701 for the exclusive products and one of the super limited signing tickets!