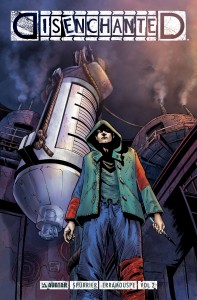 Simon Spurrier's Disenchanted web comic is redefining modern fantasy tales with a hard edged crime noir flavor. ?In the sprawling miniature city that holds all the wee people from pixies to sprites to goblins, contemporary vices of drugs, violence, and prostitution have turned the fairy folk from shining fancy creatures to soiled degenerates.
A new chapter of this riviting tale is collected in Disenchanted Vol 2 Trade Paperback in the September issue of Previews. ?Stop by your local comic shop to find the first chapter and reserve your copy of this powerful story about where magic went to die.
PRODUCT DESCRIPTION: Violence, crime, drug use, and racism rule on the streets of Vermintown. SIMON SPURRIER has created a fascinating city of angry fairy folk that have become far too much like the human race that no longer believes in them. The smash-hit web comic takes you into a metropolis of vices that unflinchingly shows us what happened to the fairy folk of yesteryear. Now this living and breathing city holds a darkness that has rotted it to the core. Vermintown is where magic went to die. And in its streets the worst evils in us are now poisoning the last remaining magics in the world. Disenchanted will change the way you look at fairy tales forever. This volume collects the complete second arc of the weekly web series www.disenchantedcomic.com.