Fans have been hooked on the world that Jonathan Hickman created in the pages of God is Dead. ?Series author Mike Costa has taken this original world and pushed it to an insane level. ?Jesus has returned to the world and brought with him the miracle of everlasting life on Earth. ?But with the petulant gods still fighting among themselves and leveling the world alongside the heavens, living forever is more a curse than a blessing.
This third chapter takes readers to a world that is being devoured by darkness and pushes them headlong into the abyss. ?Ask your local retailer to reserve a copy of this latest chapter today:
God is Dead Vol 3 TPB
PRODUCT DESCRIPTION: ? ? ?Mankind prayed for salvation. As the gods of mythology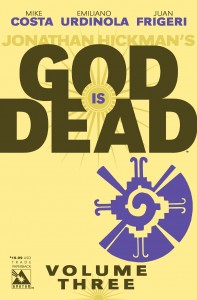 fought and destroyed around them, they hoped and spoke in hushed tones of the return of the Christian God. Now Jesus Christ has risen and once again walks among mortals. But thousands of years of recounting the stories of the Bible won?t prepare people for the truth about the All Powerful. They believed that Jesus was the savior of the human race and that he would return to do so again. Now the Son of God has come back but his salvation comes as the most horrific of prices. The most audacious arc of God Is Dead has arrived as MIKE COSTA delivers the intensity and darkness in a world of divine wrath. God is Dead Vol 3 TP collects issues #13 ? 18 of the ongoing comic book series.