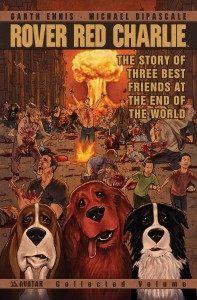 In stores today, the collected edition of Garth Ennis' moving story about three canine friends at the end of the world arrives to deliver a fresh four legged?perspective on the end of the world. ?Ennis received heartfelt acclaim from readers and comic collectors everywhere as the story unfolded over the six issue series. ?But perhaps the biggest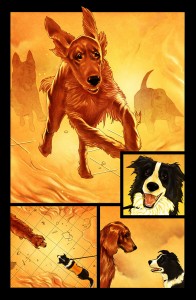 compliment came from fellow comic writing legend Alan Moore who said:
"Garth Ennis manages, with hardly any homo sapiens in sight, to tell what is quite possibly the most profoundly human story of his already astonishing career. ?This is a book for life, not just for Christmas."
If you are a fan of Ennis' library of work, a lover of good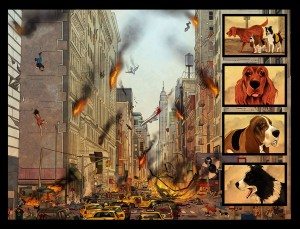 stories, or just a dog person, this is the book you have been waiting for. ?Rover Red Charlie will make you reassess what makes us human and will win your heart with the incredible painted illustrations of Michael DiPascale.
Stop by your local retailer today to see a copy of this new must-read addition to the Avatar graphic novel library.