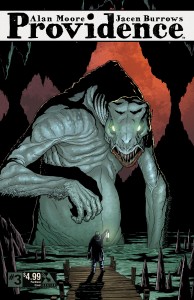 Bleeding Cool Magazine #16 is in comic shops this week.  Within the pages of the publication is an incredible interview with Alan Moore which discusses his influences and objectives for the upcoming release of Providence.  Moore is working with collaborator Jacen Burrows on a definitive Lovecraft inspired series that acts as both prequel and sequel to the seminal work he did on Neonomicon.
Today on Bleeding Cool.com you can read a companion piece to that interview which goes into detail about the character of Robert Black, a gay Jewish man attempting to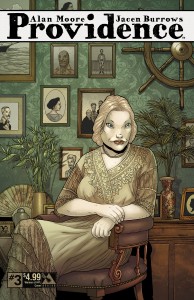 survive the prejudices of both Lovecraft and the world around him.  Moore tackles the subject and provides his opinion of how the reader can experience Black's life as an outsider in the year of 1919 within the context of the story being spun in Providence.
You can read the companion piece here:  http://www.bleedingcool.com/2015/04/23/alan-moore-writes-a-gay-jewish-protagonist-for-providence-to-address-lovecrafts-prejudices/
And look for Bleeding Cool Magazine #16 in comic shops today.