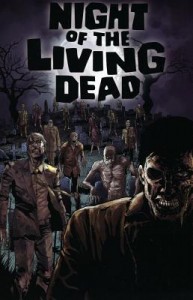 The original Night of the Living Dead movie started something very special in the world of social commentary and the horror community.  Since then there have been many attempts at recapturing the magic of that first groundbreaking film.  None have come as close as original film co-writer John Russo and horror comics legend Mike Wolfer in capturing the tone and importance of the movie.  The original Night of the Living Dead Vol 1 Tp takes fans on a trip back, with a special prequel to the first film and collecting all eight issues of the first NOTLD series in one ghoulish masterpiece.
Any zombie fan would love this volume of horror and can recognize the reason it is essential reading in the genre.  Night of the Living Dead Vol 1 Tp is available at your local comic shop, online at Amazon, and digitally as single issues at ComiXology: https://goo.gl/KK6tha.  Check it out today and enjoy what zombie fiction is meant to be.
NIGHT OF THE LIVING DEAD VOL 1 TP
PRODUCT DESCRIPTION:  A prequel to the original film from the original creator and co-writer John Russo! You've heard the eyewitness accounts and were shocked by the television reports, but now for the first time you'll experience the horrifying events which led to that first Night of the Living Dead! A strange mist brings the unburied dead back to life, hungry for the flesh of the living. This incredible prequel to the blockbuster classic 1968 Night of the Living Dead film gives new insight into many of the film's characters and locations, including horrific encounters at the farm house and Beekman's diner, and introduces, for the first time, the Cemetery Zombie, Sheriff McClellan, the zombie girl Karen, and NOTLD hero Ben.