These are the new digital Avatar Press items on sale at ComiXology this Wednesday, 7/29/15:
Crossed: Badlands #81
PRODUCT DESCRIPTION:      A new story arc "The Lesser of Two Evils" written and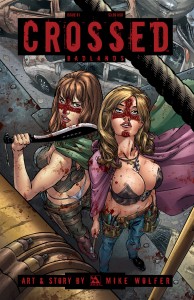 illustrated by Mike Wolfer begins here! Sometimes a group of people can be too clever for their own good. When a motley band of commuters are stranded on a partially collapsed overpass they soon discover that the situation may be a blessing. With the Crossed unable to reach them, they seem relatively safe. But are forced to see the horrors playing out all around them. But in a Crossed world, safety is an illusion that is oft shattered in horrific fashion.
Crossed: Badlands #82
PRODUCT DESCRIPTION:      After admitting two women into their defensible stronghold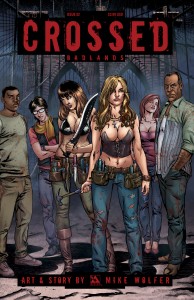 atop a collapsed bridge, an uneasy alliance of survivors discovers just how the women successfully navigated through the horrors on the ground below- They followed the advice of their "bible," a best-selling, "zombie survival guide" novel. Fiction or not, the book could be the answer to saving all of their lives in the wasteland ruled by the maniacal Crossed!