It is tough to start talking about the holidays in August, but if you have special people on your list that are comic book fans, an opportunity has come up with the Alan Moore Virtual Comic Con, to get them a unique gift this holiday season.  Getting an Alan Moore autograph is extremely rare.  But being able to personalize the gift to your recipient is something that will make it that much better.
For just a few more days – orders for very limited comic books signed and personalized by Alan Moore are available.  These are perfect for horror aficionados or any comic book fan who recognizes the place of honor reserved for the man who changed the face of the medium with projects like Watchmen.
Visit the Alan Moore Virtual Comic Con here:  http://www.comcav.net/collections/alan-moore-virtual-convention-signing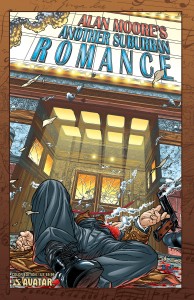 Don't miss out on a very rare opportunity to give the comic fan in your life something very special this giving season.  And give yourself something too – every order comes with a digital redemption code that grants you access to 20 Alan Moore comics on Comixology:  Neonomicon #1-4, Crossed +100 #1-6, Fashion Beast #1-10, and Another Suburban Romance Graphic Novel!