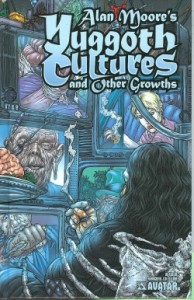 Fans are universally hailing Alan Moore's Providence as one of his most realized stories ever published.  This is tremendous praise for the slow-burn Lovecraftian horror that is being delivered in every issue of the new series.  Fans of Neonomicon look at Providence as a continuation of these themes of underlying horror that resides below consciousness.  And as the call for "more Moore" Lovecraftian horror is heard, we wanted to take a moment to remember another tale that delivers just that, in Alan Moore's Yuggoth Cultures & Other Growths.
PRODUCT DESCRIPTION:     Yuggoth Cultures and Other Growths features tons of Alan's
classic short sequential comic book stories that have been long out of print, stories that have never before been seen and special developmental sections with original script pages and comments from Alan and the creators. This massive volume also has an extensive interview with Moore as he discusses Yuggoth Cultures, the stories inside and some of the amazing tales the lead to their creation as well as the real magic behind the works. As if that wasn't enough, Antony Johnston's work inspired by Yuggoth Cultures and the worlds of H.P. Lovecraft is included and features all-star art by Juan Jose Ryp, Jacen Burrows, Dheeraj Verma and many more along with copious notes on the Lovecraftian origins of the tales.
Yuggoth Cultures & Other Growths TPB is available from local comic shops, at Amazon, and from www.comcav.net.