These are the new Avatar Press digital items coming to ComiXology on Wednesday 12/16/15:
Crossed +100 #12
PRODUCT DESCRIPTION:      The second arc of the Alan Moore developed Crossed future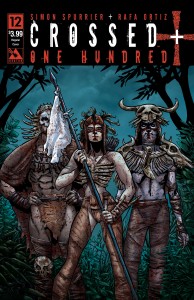 exploration comes to a powerful conclusion.  Simon Spurrier has pushed Future Taylor and her friends to the brink of disaster as the Crossed plague once more begins to flourish.  Humanity barely survived its fracturing one
hundred years ago and this newest outbreak could finish off the remnants of civilization once and for all.
Crossed: Badlands #91
PRODUCT DESCRIPTION:      Max Bemis starts and all-new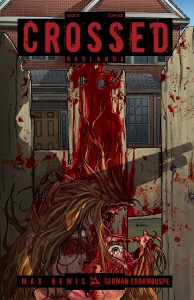 arc of Crossed to tell another gripping story in the world of ultimate misery.After C-Day everything changed.Nothing was every normal again – not life, not family, and not survival. The majority of people who didn't evolve with the new status quo were brutally
killed or added to the ranks of psychopaths roaming the streets.  But what about a love story in this new world of hate?
Disenchanted Vol 2 GN
PRODUCT DESCRIPTION:      Violence, sadism, crime, drug use, and racism rule on the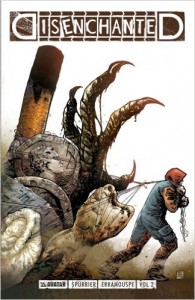 streets of Vermintown. Simon Spurrier has created a fascinating city of angry fairy folk that have become far too much like the human race that no longer believes in them. The smash-hit web comic takes you into a metropolis of vices that unflinchingly shows us what happened to the fairy folk of yesteryear. Now this living and breathing city holds a darkness that has rotted it to the core. Vermintown is where magic went to die. And in its streets the worst evils in us are now poisoning the last remaining magics in the world. Disenchanted will change the way you look at fairytales forever! This volume collects the complete second chapter of the weekly web series www.disenchantedcomic.com.