Ah yes, the holidays are here.  But at Avatar Press we celebrate the "horror-days".  And we invite you to do the same by giving the gift of terror to your comic reading loved ones.  So to help you stuff their stockings with screams, here is a short list of some great trade paperback collections that can be found at your local comic shop or on Amazon just in time for the festivities:
Alan Moore's NEONOMICON TP:
PRODUCT DESCRIPTION:      Comic book legend Alan Moore (WATCHMEN, FROM HELL)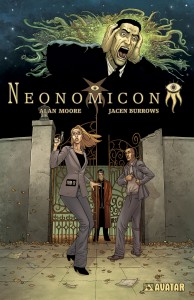 and brilliant artist Jacen Burrows deliver a chilling tale of Lovecraftian horror! Brears and Lamper, two young and cocky FBI agents, investigate a fresh series of ritual murders somehow tied to the final undercover assignment of Aldo Sax -the once golden boy of the Bureau, now a convicted killer and inmate of a maximum security prison. From their interrogation of Sax (where he spoke exclusively in inhuman tongues) to a related drug raid on a seedy rock club rife with arcane symbols and otherworldly lyrics, they suspect that they are on the trail of something awful… but nothing can prepare them for the creeping insanity and unspeakable terrors they will face in the small harbor town of Innsmouth. NEONOMICON collects Alan Moore's 2010 comic book series for the first time in its entirety – including his original story, THE COURTYARD, which chronicled Aldo Sax's tragic encounter with the (somewhat) mortal agents of the Old Ones!
Garth Ennis' CALIBAN:
PRODUCT DESCRIPTION:      The crew of the mining ship Caliban is on a routine mission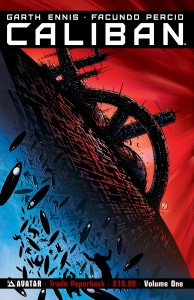 deep in the universe and confident that nothing outside the normal humdrum monotony of space travel will occur. But when they encounter an alien vessel their dreams of a simple mission turn into a nightmare unfolding along the lonely corridors of the cold steel ship. Something is stalking them and systematically eliminating the few remaining personnel one by one. How can you fight something you can't even understand? Claustrophobic terror grips the crew now as they attempt to escape the thing that has waited patiently for them to eventually arrive in the vast lonely darkness. No one is safe in deep space. Revolutionary comics writer Garth Ennis (Preacher, Crossed) takes you down a desolate corridor with the type of high tension paranoid storytelling that will leave a lasting mark on you. Beautifully illustrated by Facundo Pericio (Fashion Beast), Caliban is a must read for horror and sci-fi fans alike. This volume collects the Caliban #1 – 7 comic book series.
Kieron Gillen's UBER VOL 1:
PRODUCT DESCRIPTION:      April 24, 1945. The world holds its collective breath as the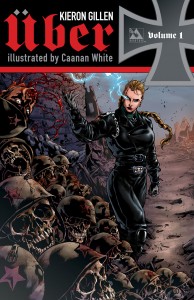 war is only days away from ending. Russian troops move through Germany to the final objective… Hitler himself. As those around the mad dictator crumble, the much ridiculed threats of the "Wunderwafen" materialize. A new weapon is delivered, one with unstoppable power – a weapon like no other and with a madman pulling the trigger. The Ubers change the direction of World War II, providing a dark and uncompromising alternative history in a way that you've never seen. Kieron Gillen and Caanan White deliver one of the best new series of 2013 with Uber Volume 1, collecting issues #0-5 the startling first chapter of this new horror series that reimagines the super soldier in a stark, new, bloody vision.