Its the holidays and last minute gift giving is upon you.  What do you get the fiction and comic book reader in your life that they don't already have?  Why not go to your local comic shop and get them something they will certainly treasure.  George RR Martin is one of the biggest names in fiction.  And his work on Game of Thrones is something that comic book fans everywhere enjoy.
Avatar Press has a nice library of GRRM books that are sure to thrill the gift recipient and will introduce them to his other incredible worlds and tales.
Fevre Dream TPB: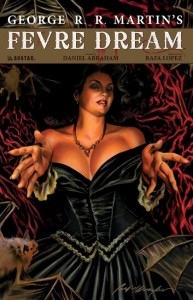 Prepare for a ten issue vampire epic on the bayou from the writer of the A Song of Ice and Fire novels! From the New York Times Best-selling author, George R. R. Martin, comes a tale of vampire clans, death and debauchery, legendary bloodmasters, and even a few epic steamboat races on the muddy Mississippi. This is Martin's FEVRE DREAM, an antebellum story of power, loss, and the fever of bloodlust. It is 1857, and Abner Marsh is a remarkably ugly man — but the best steamboat man on the river. When the pale Joshua approaches him with a partnership and enough money to build the boat of his dreams, it seems too good to be true. But Joshua is a mystery of a partner, a man who keeps strange hours and stranger friends. It's only a matter of time before Abner begins to wonder where the FEVRE DREAM is heading, and if it may turn out to be a nightmare, after all. Each issue of this stunning full-color epic is illustrated by Rafa Lopez, an artist whose skilled line captures every moonlit drop of blood in delicious detail. Adapted by the Hugo-nominated author Daniel Abraham, this version of FEVRE DREAM stays faithful to Martin's original dark vision, while bringing the torture and joy of his vampires to almost-human life.
In the House of the Worm TPB: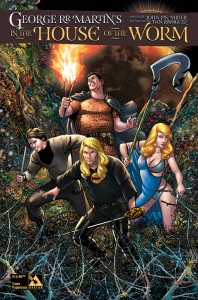 The biggest name in fiction, GEORGE RR MARTIN, opens his story vault as we adapt a tale of dark fantasy to comics for the first time with In The House of the Worm. Beneath a ruined city on a forgotten planet lies a world of plots and revenge. When Annelyn is embarrassed in front of his noble friends by the Meatbringer, he sets forth a devious plan that is meant to gain vengeance. But the terrible truth of the dire White Worm turns his ploy into folly in terrible fashion. Join a master storyteller as he spins a uniquely mysterious tale and reveals new worlds of wonder and horror. From the creator of A Game of Thrones, a new vision of fantastic adventure!
Skin Trade TPB: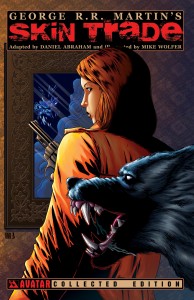 Private investigator, Randi Wade sees the ravaged remains of innocent victims that have been savagely murdered and skinned. As the mysterious secrets of the Blackstone Manor begin to be uncovered, she gets ever closer to the monstrous truth…werewolves are real! George RR Martin combines his unmatched creative vision with the visceral illustrations of horror master Mike Wolfer to create something intensely unsettling.