Simon Spurrier stepped in to Crossed +100 to pick up the reins of the story from departing master architect Alan Moore.  Using Moore's meticulous notes and world building scheme, Spurrier entered the future world of Crossed +100 and took the story into fascinating new directions.  Now the second arc of this innovative new title is collected and comic shops are placing their order for the volume now.
PRODUCT DESCRIPTION:     Alan Moore's redefining of the Crossed universe 100 years in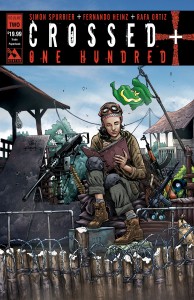 the future continues with his hand selected successor, Crossed: Wish You Were Here scribe, Simon Spurrier. Future Tayler's world was devastated by the realization that one of her closest friends led to the devastation of Chooga. Now as she helps a new town of survivors prepare for the organized attack of the evolved Crossed, she realizes that her best efforts may not be enough. The Crossed have a plan and they are coming. No amount of wishful fiction will prevent the conflict to come. The Crossed +100 series is a self-contained whole new world; no prior knowledge of the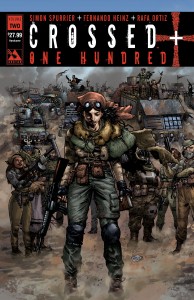 Crossed series is needed. Crossed +100 Vol 2 TP contains the continuing story originally presented in issues #7 – 12 of the ongoing comic book series.
Crossed +100 Vol 2 TPB will be on sale in March at your local comic shop and on Amazon. It is available in both hardcover and paperback – ask your retailer to reserve a copy for you today.