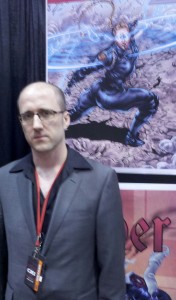 The first collection of Kieron Gillen's frenetic sci-fi series, Mercury Heat, is currently available for order in the January issue of Previews.  This initial collection presents the first six issues of the story into a great trade perfect for your bookshelf.  Join Luiza on her quest to become a police officer in the far flung future all the while trying to tame the psychotic neuro profile that categorized her as a shade away from psychotic.  This is the series you've been waiting for – filled with ruthless cyborgs, runaway technology, and robotic terrorists!
PRODUCT DESCRIPTION: Kieron Gillen blasts into an all new epic sci-fi series, Mercury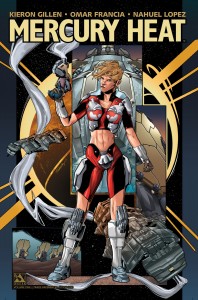 Heat! Gillen's work has gained a massive following from titles like Uber, The Wicked and the Divine, and Darth Vader. Now he takes you to Mercury, a slow turning planet where you can outrun the sunrise along with the blistering heat it brings. This is the new frontier of space, where humanity's insatiable need for energy is being fueled by Mercury. It's a tough environment and it attracts a rough crowd. So Luiza is bringing her own heat as a cop on Mercury, since she's just a bit too intense to be one on Earth. Mercury Heat introduces the sci-fi world of the future where individuals are identified by genetic markers and personality types to fill roles in society, the troublemakers seem to end up on Mercury. Luiza wanted to help people, she wanted with all her heart to be a police officer. But the automated Grapevine system had other plans for her. There are only a few legal options for someone branded with her neuroprofile. As an adult Luiza's dream came true – just on Mercury where she enforces laws with extreme prejudice as a bounty agent in a world of hard-as-nails miners and cyborgs. This volume collects issues #1 – 6 of the ongoing Mercury Heat comic book series and the Free Comic Book Day Edition.
Ask your local comic shop to reserve a copy for you today!