Normally we leave the speculation to comic websites, but this editor just got wind of a huge unsolicited event coming in the pages of Kieron Gillen's Mercury Heat #7 (on sale 2/3 at your local comic shop).  Now…I've been sworn to secrecy about exactly what this event is so details here are pretty sparse.  But you know that in all the articles we post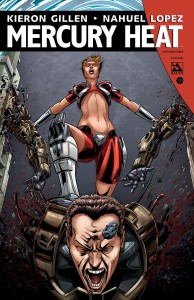 here daily about Avatar comics and stories we've never announced something like this.  This is truly unexpected and it will most assuredly surprise you.  Take that for what its worth – this is BIG.
So if you aren't reading Mercury Heat and you are an Avatar Press fan – make sure you get in to your local retailer and have them reserve a copy for you of issue #7 (and check out the first six issues – you'll love it).  When the issue is live it's going to be very hard to find one on the shelves.  And you won't want to miss this.  Plus look – it's a book by Kieron Gillen.  You know its good.  Trust us – this is something you won't want to miss!