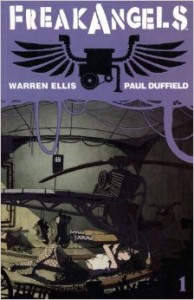 Warren Ellis' very popular webseries, Freakangels is finally coming to digital comics.  Volumes 1 & 2 of the six part trade collection are available now at Comixology with the additional four volumes to come throughout the month of January.
Freakangels tells the story of six very special teens that
came together and destroyed the world.  The story is illustrated by the incredible Paul Duffield and the comic has resonated with audiences for years.  This is truly an essential part of the Ellis library for anyone that has enjoyed the scribe's work on The Authority and Transmetropolitan.  Check out the collected volumes now in print at your local comic shop or on Amazon.  And look for the digital volumes on ComiXolgy this month!