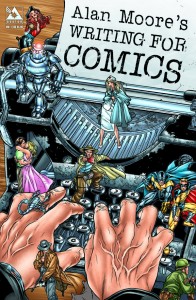 The comic book field is filled with new and talented young creators that are looking for their first big break.  Some of these people will be the big names of the future and they will forge their own legacies in sequential storytelling.  When we meet new writers who are looking for that first opportunity they often ask what the best way to get noticed is.
Truth be told – if you have made a connection and you want to impress with a script, you need to know how its done.  The Writing For Comics GN is an essential gateway to getting the information to do just that.  Written by Alan Moore, arguably the most influential of comic book writers, the tome delivers his personal thoughts on the craft.  This is like a short class with Alan himself on how to make good comics.
Any potential writers looking to get a leg up on the competition should check with your local comic book shop and obtain a copy of Writing For Comics as a way of initiating personal growth in your craft.