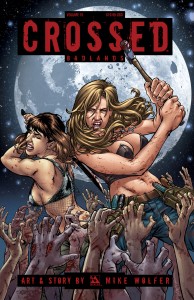 In comic shops everywhere today, horror icon Mike Wolfer's Crossed story "The Lesser of Two Evils" is collected into Crossed Vol 15 TPB and HC.  This marks the first time that Wolfer has both written and illustrated a tale in the Crossed universe.  His distinct style of storytelling allows us to watch as two women infiltrate and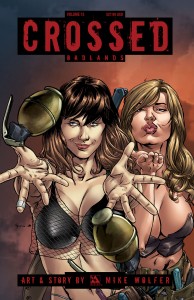 systematically destroy a group of survivors from the inside.  Following the advice of their "Zombie Survival Guide" they manage to isolate and turn various members of the group against one another until the bitter resolution.
If you enjoy watching the machinations of monsters this series is the perfect jump on point for you.  Ask your local comic shop to reserve a copy of the collection and join the grueling world of the Crossed!