These are the Avatar Press items new to comic shops this Wednesday 3/9/16:
Crossed +100 #14
PRODUCT DESCRIPTION:      Simon Spurrier continues to deliver shocking developments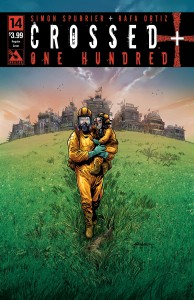 in the future world of the Crossed. Humanity is taking a stand and fighting back against the rising tide of infection. Future has managed convince the towns of the true threat and a violent resolution has been enacted. But the Crossed have evolved and their plotting and planning are the machinations of generations of madness. How can any sane person hope to understand what is coming next…? Several special themed covers continue to enrich the series:
*American History X Wraparound – Each of these will depict a specific time in the past hundred years, showing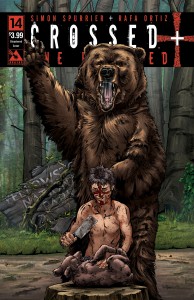 how things have changed and offering a peek at some key events. Each cover will display the year in which it takes place to help build the full picture. Art by Christian Zanier.
*Crossed Wires – The Crossed just don't see or make things the same way a person would, these images celebrate that day-to-day madness. Art by Christian Zanier.
*Disastered – These will show how America has changed since the original Crossed outbreak. Art by Christian Zanier.
*Horrific Homage – What if the Crossed were there from the very beginning of comics? This edition will be an Homage to a great Golden Age cover. Art by Michael DiPascale.
*Wishful Fiction – The evolution of science-fiction would have been very different with the Crossed as we show you here! Art by Daniel Gete.
Mercury Heat Vol 1 TPB
PRODUCT DESCRIPTION:       Kieron Gillen blasts into an all new epic sci-fi series, Mercury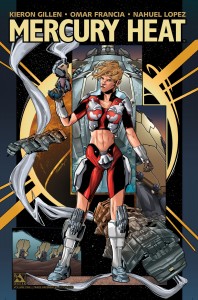 Heat! Gillen's work has gained a massive following from titles like Uber, The Wicked and the Divine, and Darth Vader. Now he takes you to Mercury, a slow turning planet where you can outrun the sunrise along with the blistering heat it brings. This is the new frontier of space, where humanity's insatiable need for energy is being fueled by Mercury. It's a tough environment and it attracts a rough crowd. So Luiza is bringing her own heat as a cop on Mercury, since she's just a bit too intense to be one on Earth. Mercury Heat introduces the sci-fi world of the future where individuals are identified by genetic markers and personality types to fill roles in society, the troublemakers seem to end up on Mercury. Luiza wanted to help people, she wanted with all her heart to be a police officer. But the automated Grapevine system had other plans for her. There are only a few legal options for someone branded with her neuroprofile. As an adult Luiza's dream came true – just on Mercury where she enforces laws with extreme prejudice as a bounty agent in a world of hard-as-nails miners and cyborgs. This volume collects issues #1 – 6 of the ongoing Mercury Heat comic book series and the Free Comic Book Day Edition.
War Stories #17
PRODUCT DESCRIPTION:     The speed of Max's whirlwind romance shocks everyone,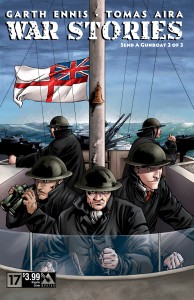 Jonah most of all, but the young gunboat skipper takes life at his usual piratical pace. But out in the fog of the English Channel lurks the real pirate, the German E-Boat commander nicknamed Hans the Bastard- and soon the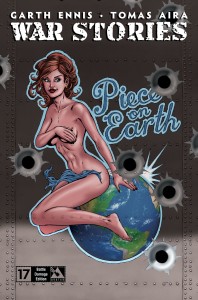 crew of MGB 969 find themselves charging into a deadly trap. Part two of Send A Gunboat, by Garth Ennis and Tomas Aira. Available with Regular, Wraparound Covers by Thomas Aria, Good Girl Nose Art, Battle Damage Retailer Incentive Covers by Matt Martin.
Ask your local comic shop retailer to reserve copies for you today!