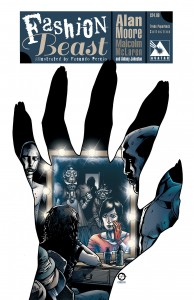 The 1980s were a unique time.  It was unrivaled in audacious clothes and style but also happened to have some of the all time greatest comic books.  Who can argue with the likes of Dark Knight, Watchmen, and V For Vendetta?  Alan Moore was at the center of the movement advancing comics from pulpy bubblegum stories for kids to a format that embraced the mature reader and delivered powerful commentary on society and humanity.
Many people don't know that during this period of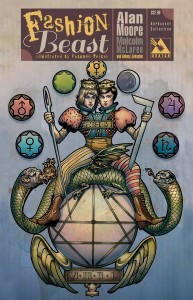 maximum creativity, Alan Moore collaborated with Malcolm McLaren of the Sex Pistols to write Fashion Beast.  The story was lost literally for decades until it was turned into a one of a kind graphic novel in 2012 by long time Moore collaborator, Antony Johnston.  The resulting tale reads akin to the blockbusters we now consider essential reading in the comic book format.  If you consider yourself a comic book aficionado, you must add Fashion Beast TPB to your reading list to experience yet another masterpiece from the titans of the industry.
Ask your local comic shop to reserve a copy of this unique story today.  Available in softcover and hardcover editions.