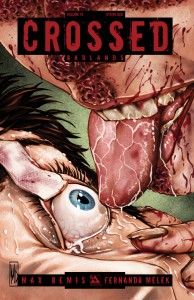 Singer, songwriter, and comic book creator, Max Bemis of Say Anything, has delivered some of the creepiest new Crossed stories in a long while.  His two tales that were presented in Crossed: Badlands #87 – 92 are collected into the upcoming Crossed Vol 16 TPB which is on sale in May.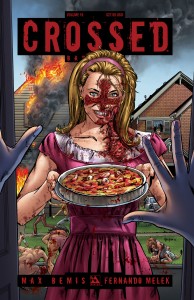 The issues collected tell tales that focus on the twisted survivors of the Crossed outbreak and how the ever present threats turn them into monsters themselves.
These two terrifying tales are without a doubt some of the most powerful Crossed stories you will read.  Take a moment to get caught up on a new visionary's chapter in the ongoing world of uncensored survival horror.  Ask your local comic shop to reserve a copy of Crossed Vol 16 TPB or HC today!