This is the new Avatar Press item coming to comic shops on Wednesday 5/25/16:
Crossed Vol 16 TPB & HC
PRODUCT DESCRIPTION:     Singer and song writer Max Bemis of Say Anything spins a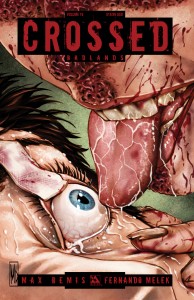 fresh tale of terror in the pages of Crossed: Badlands! In a world overrun by madmen and maniacs, how can anyone hope to survive with their sanity intact? When two brothers survive, one human, one Crossed, the family dynamic can be heartbreaking. Siblings are a blessing and a curse. Jack discovers that a lifetime of hatred by his troubled brother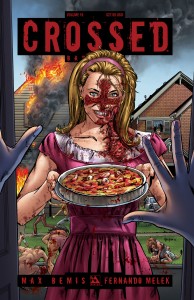 can turn into an instant of misery in a Crossed world. Three very different people come to terms with the Crossed infection as a strange love triangle plays out once more further fracturing the dysfunctional family dynamic between brothers. The lessons of a Crossed world are taught in tainted blood in "Shrink" – a new terrifying story of loss and misery. There is no help, there is no hope. There is only the Crossed.  This volume collects issues #87 – 92 of the ongoing Crossed: Badlands series.
Ask your local comic shop retailer to reserve copies for you today!