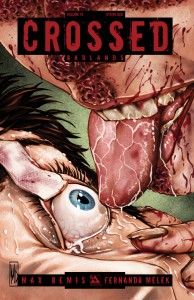 Singer, songwriter, and comic book author, Max Bemis, has delivered a pair of unforgettable Crossed tales in the new collected edition Crossed Vol 16 in stores tomorrow. A longtime Crossed fan himself, the scribe created two very powerful tales that showcase the misery of the Crossed and the darkness inside the uninfected as well.  For as grueling a world as the Crossed inhabit, the capacity for evil is not a unique trait to their existence.
In the first tale "Shrink" two brothers come to grips over their lifelong conflict when one gets infected and makes good on years of anger and despair.  This is in the early days of the plague and as the infection finds a sleepy town so too does the past rear its ugly head in a shattered sibling relationship.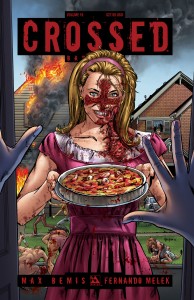 And in the second, a group of uninfected comic fans are holed up in a shop riding out the tragedy.  But behind the doors these regular Joes have hidden an ugliness that rivals the Crossed in their capacity for evil.  And their desire for new comic book adventures leads to a terminal crossroad.
If you are looking for something deeper in your Crossed tales, this is the volume for you.  Ask your local retailer to reserve a copy of Crossed Vol 16 TP or HC for you on new comic book day!