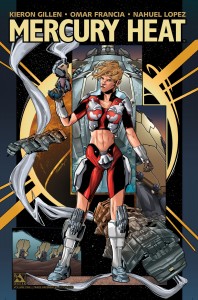 If you are like most folks enjoying a short vacation to the beach or your local watering hole this summer, Avatar Press has a host of reading material to help you enjoy the down time with some high octane stories.  Kieron Gillen is one of the young authors that have really electrified readers with pretty much ever tale they spin.  From his work on the horrors of Uber to his run on Marvel or Image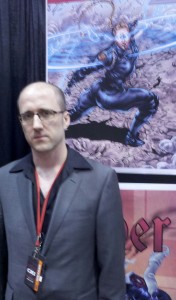 books, just about every yarn he tells is one that will leave a lasting impression on you.
One of his latest forrays into comics has been the hyper violent world of Mercury Heat.  This story follows Luiza, a nice young woman who just happens to have a psych profile that is just a shade away from being a sociopath.  But Luiza only ever wanted to be a police officer.  Now she doles out frontier justice in the wild west atmosphere of Mercury.  This is an awesome mix of character drama and high sci-fi adventure with a violent taste of revenge.  Sci-fi fans will love this book and its one that presents a fresh and bloody take on space exploration.
Mercury Heat Vol 1 TPB can be found at your local comic shop, online at Amazon, or digitally from ComiXology and ComCav.net!