New Avatar Press books in comic shops this week on Wednesday 1/15/14:
Gravel: Combat Magician #0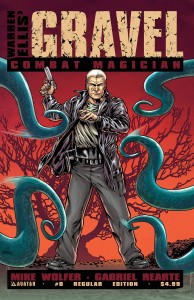 PRODUCT DESCRIPTION:? Gravel returns with a super-size launch issue and an all-new monthly series!? Mike Wolfer has worked on every issue of Gravel to date, and he's back to his black magic ways, joined by artist Gabriel Rearte who is conjuring stunning pages!? This #0 is a perfect starting place for new readers, with a self-contained story and a huge what-has-come-before summary of all the previous Gravel issues.? After dismantling the aristocratic, magical hierarchy of England and surviving a war against a blood-thirsty serial killer, William Gravel disappeared. But even a man who can walk through walls cannot escape Combat Magic-fueled assassins. And he?s not happy about it. Written by long-time Warren Ellis collaborator MIKE WOLFER, GRAVEL: COMBAT MAGICIAN presents a fresh starting point for new readers to enter the world of ultra-violent black magic.? Available with a Regular cover by artist Gabriel Rearte, Wraparound, Horror and a Black Magic Order Incentive cover by Wolfer.
God is Dead #5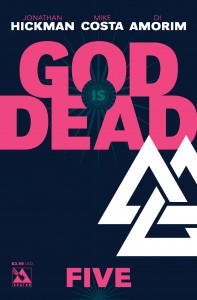 PRODUCT DESCRIPTION:? The world is only hours away from Armageddon as the pantheons of Asgard and Olympus collide.? With the first attempt at creating a god weapon resulting in the birth of Mammon, the enclave of scientists strikes a desperate stake as they hope they can create a being able to stand against the deities waging war across the globe.? But tampering with the very stuff of gods is a dangerous game and the end result is nothing short of staggering?? Join JONATHAN HICKMAN for the end of the world as God Is Dead rolls toward an unbelievable climax!? Available with a Regular cover by Jonathan Hickman, End of Days cover, a premium Iconic card stock cover that is limited to just 5000 copies by Jacen Burrows, and a Pantheon Order Incentive cover by series artist Di Amorim.
Rover Red Charlie #2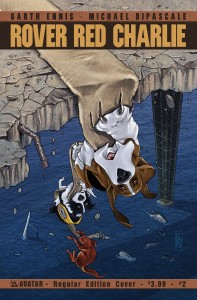 PRODUCT DESCRIPTION:? Three canine best friends try to make their way at the end of the world.? Having fled the death and destruction of the city, Rover, Red, and Charlie find that feeders aren?t the only ones you can?t trust in this topsy-turvy world.? When they meet up with a wary hisspot, they find out that this new world order is even crazier than they could imagine.? GARTH ENNIS ? the father of Preacher and Crossed ? delivers a story like no other, as an unlikely band of canines set out to survive in a world gone horribly mad and fully-painted by Michael Dipascale.? Step into the mind of man?s best friend!? Available with a Regular, Wraparound, and a Dog Days Order Incentive cover by series artist Michael Dipascale.
Stitched #18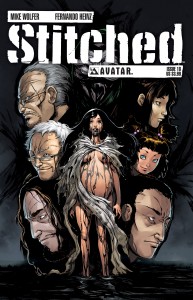 PRODUCT DESCRIPTION:? It?s all been leading to this!? The final showdown between the Shinju-kai and the newly transformed ?Stitches? begins here.? ?Kenji Nakamura leads his supernatural samurai into the very heart of the Shinju-kai office building, but he doesn?t know that the Shinju-kai have prepared for the assault.? Betrayal is the order of the day and no one but Katsumi knows the hideous secrets of the Stitched!? Available with a Regular, Wraparound, Gore, and special Slashed Incentive cover by series artist Fernando Furukawa.
Visit the Comic Shop Locator Service to find a local comic book store near you -?http://www.comicshoplocator.com/Home/1/1/57/575