The following Avatar Press comics are new to ComiXology on Wednesday 1/15/14:
Same Day as Print:
Gravel: Combat Magician #0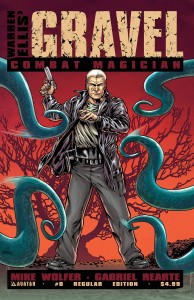 PRODUCT DESCRIPTION:? Gravel returns with a super-size launch issue and an all-new monthly series!? Mike Wolfer has worked on every issue of Gravel to date, and he's back to his black magic ways, joined by artist Gabriel Rearte who is conjuring stunning pages!? This #0 is a perfect starting place for new readers, with a self-contained story and a huge what-has-come-before summary of all the previous Gravel issues.? After dismantling the aristocratic, magical hierarchy of England and surviving a war against a blood-thirsty serial killer, William Gravel disappeared. But even a man who can walk through walls cannot escape Combat Magic-fueled assassins. And he?s not happy about it. Written by long-time Warren Ellis collaborator MIKE WOLFER, GRAVEL: COMBAT MAGICIAN presents a fresh starting point for new readers to enter the world of ultra-violent black magic.
God is Dead #5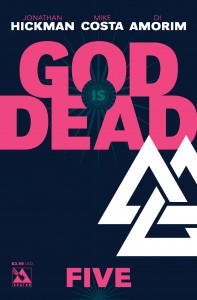 PRODUCT DESCRIPTION:? The world is only hours away from Armageddon as the pantheons of Asgard and Olympus collide.? With the first attempt at creating a god weapon resulting in the birth of Mammon, the enclave of scientists strikes a desperate stake as they hope they can create a being able to stand against the deities waging war across the globe.? But tampering with the very stuff of gods is a dangerous game and the end result is nothing short of staggering?? Join JONATHAN HICKMAN for the end of the world as God Is Dead rolls toward an unbelievable climax!
Rover Red Charlie #2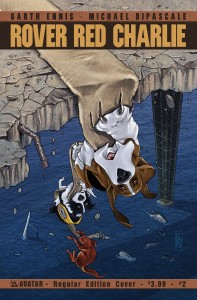 PRODUCT DESCRIPTION:? Three canine best friends try to make their way at the end of the world.? Having fled the death and destruction of the city, Rover, Red, and Charlie find that feeders aren?t the only ones you can?t trust in this topsy-turvy world.? When they meet up with a wary hisspot, they find out that this new world order is even crazier than they could imagine.? GARTH ENNIS ? the father of?Preacher?and?Crossed?? delivers a story like no other, as an unlikely band of canines set out to survive in a world gone horribly mad and fully-painted by Michael Dipascale.? Step into the mind of man?s best friend!
Stitched #18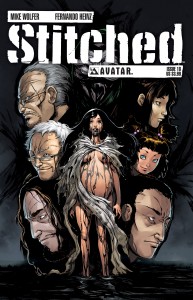 PRODUCT DESCRIPTION:? It?s all been leading to this!? The final showdown between the Shinju-kai and the newly transformed ?Stitches? begins here.? ?Kenji Nakamura leads his supernatural samurai into the very heart of the Shinju-kai office building, but he doesn?t know that the Shinju-kai have prepared for the assault.? Betrayal is the order of the day and no one but Katsumi knows the hideous secrets of the Stitched!
New to ComiXology:
303 #1 – 4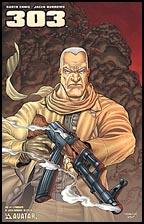 PRODUCT DESCRIPTION: ?Garth Ennis, the author of Preacher and writer of Punisher, is unleashed on a new military creator-owned epic! Deep in the mountains of Afghanistan, a dozen Russian special forces soldiers race their British opponents for a secret neither of them can imagine. The Russian leader, a war-weary Colonel who knows no other life but conflict, carries old ghosts that refuse to let him be- but the battle that awaits him deep in this ancient land will change his life forever, and send him on a journey no sane man would contemplate. The ultimate soldier meets his destiny, in 303!
Narcopolis #1 – 4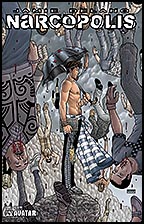 PRODUCT DESCRIPTION: ?Jamie Delano is back with this science fiction masterpiece! The British writing maestro, who helped usher in Vertigo with his launch of Hellblazer, returns to comics with his radical new vision of the future. The citizens of Narcopolis lead blessed lives, enriched by sucking down delicious MamaDream and filling their tasks to enrich society. But Gray Neighbor just isn't sure that is all life has to offer, and maybe there is more beyond the daily sluice. But when a psychestryke horrorist attack brings carnage to his life, he is thrust deeper into the edges of this utopian society and into conflict with the agents of T.R.U.S.T. who keep order. Crafting whole new chunks of language, and stunning concepts of a bizarre new world, Delano delivers a masterful new series that has to been seen to be believed! Artist Jeremy Rock provides stunningly detailed sequential pages that fully compliment this truly revolutionary book.
Night of the Living Dead: Death Valley #1 – 5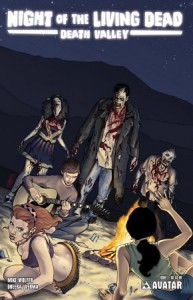 PRODUCT DESCRIPTION: ?Fans have demanded more, so Mike Wolfer returns to the Night of the Living Dead, but this time takes it to California! It's 1969, and one year and 1,700 miles from the devastating plague that ravaged the Eastern Seaboard of the United States. In the arid expanse of the California desert, a group of young, weekend warriors have left behind the tensions of the times and hope to escape the mundane with three days of hot sun, wild bikinis and boss dune buggies. But the desert is a harsh environment, where the unsuspecting can find danger behind every pristine, white, sand dune. This is Death Valley, where the flesh-hungry living dead wait, baking in the sun, thirsty for the blood of the living. But something else is hiding among the rocks, a secret even more gut-wrenching than the reanimated corpses of the dead which roam the sands! Written by Mike Wolfer this blood-drenched five-issue series features the return of artist Dheeraj (Escape of the Living Dead) Verma.
Night of the Living Dead: ?2008 & 2011 Annuals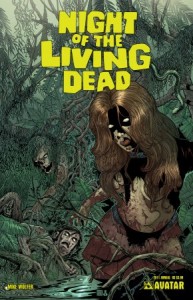 PRODUCT DESCRIPTION: ?Night of the Living Dead co-creator John Russo brings you a new tale of terror set during the night that changed the world forever. The Eastern United States is in chaos as hordes of the undead wage war against the living, and increasingly frantic television transmissions are the only source of information available to a terrified populace. But there is no escape from the living dead and no safe place to hide, not even the WIIC-TV studio where original NOTLD news anchorman Chuck Blaine has some difficult decisions to make: Should his heroic news crew continue their emergency public broadcasts, or run from the army of ghouls amassing outside the station? More importantly, should he continue to disseminate questionable government recommendations that could be luring viewers into inescapable death traps? Welcome back to the original characters of NOTLD including Johnny, Barbra and little Karen Cooper!