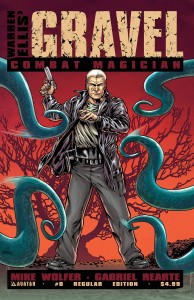 Warren Ellis and Mike Wolfer created one of the longest enduring independent comic characters in the form of William Gravel. ?The hardened combat magician who has risen through the ranks and become one of the most dangerous men in the world, sees a new chapter begin this week in comic shops with the release of Gravel: Combat Magician #0.
The new series, written by long time Ellis collaborator Mike Wolfer, is the perfect introduction point for new readers to the world of Gravel. ?In the zero issue, Wolfer takes readers through an extensive history of the character's exploits that acts as a magnificent primer for fans new and old to enter this bloody and mystical world and presents the first chapter in the new grueling tale of William Gravel. ?Any Vertigo readers who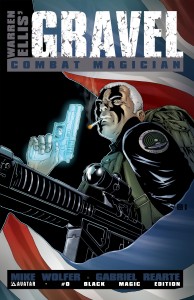 enjoy Hellblazer / Constantine will instantly warm to the dark adventures of Britain's most infamous combat magician.
If you are looking for a series that embraces the dark side of magic and military, the Gravel backlist will give you everything you want in an uncompromising vision of action and horror. ?Check with your local comics retailer to find trade paperback collections of everything that has come before or visit ComiXology for single issue backlist downloads. ?When the mystical sh*t hits the fan, you'll be glad you did.