New Avatar Press comics in stores Wednesday 2/12/14:
Gravel: Combat Magician #1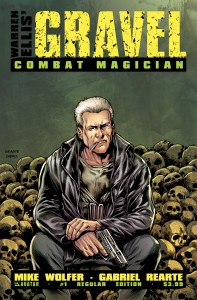 PRODUCT DESCRIPTION: The next gut-wrenching chapter in the life of William Gravel, Combat Magician has begun! Locked away in military prison since the destruction of the Major Seven, Gravel has been content with having all of his needs met by the British Army, even though a man with his supernatural abilities could never really be contained. Life has been good. Until today. A horrifying terrorist threat has struck the heart of Tokyo, a rogue Combat Magician, driven mad by the magic he wields, and a former trainee of Gravel. Available with a Regular cover by artist Gabriel Rearte, Wraparound, Horror and a Black Magic Order Incentive cover by Wolfer.
Crossed: Badlands #47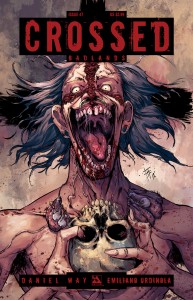 PRODUCT DESCRIPTION: DANIEL WAY?s tale of horror at sea continues as the coast guard crew?s plan to start a new life on a remote island continues to develop. But something is rotten on board the ship and the more the Captain tries to cut it out, the more his control starts to decompose. Crossed C-Day 2014 is coming and the best way to prepare for the annual horror is to read as much Crossed: Badlands as possible! Available with Regular cover by Fernando Heinz, Wraparound and Torture covers by Rafa Ortiz and special Red Crossed Incentive cover.
Stitched #19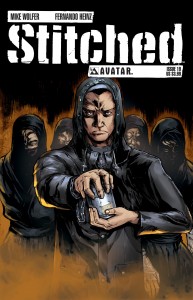 PRODUCT DESCRIPTION: ?The horrific final issue! ?In the explosive conclusion of the ?Seven Swords? storyline, all-out war erupts between Tokyo?s yakuza clan and the undead strike force of Stitched! Kenji Nakamura?s quest for revenge hits a shattering roadblock as allies become enemies, sacred trusts are violated, and deadly deceptions are revealed. Now, the man who once commanded the supernaturally-charged assassins must fight for his life against the yakuza targets and the Stitched themselves! But the vicious, rotting creatures of destruction are about to be confronted by an unstoppable force which they have never before encountered, one which could doom every participant in the horrific battle to a shrieking, violent death! ?Available with Regular, Wraparound, Gore and retailer Ancient Evil covers all be series artist Fernando Heinz.
Visit the Comic Shop Locator Service to find a local comic book store near you – http://www.comicshoplocator.com/Home/1/1/57/575