New Avatar Press new titles to ComiXology Wednesday 4/23/14:
Same Day As Print:
Crossed 2014 Annual
PRODUCT DESCRIPTION: Crossed scribe SIMON SPURRIER teams up with artist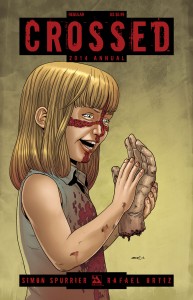 RAFAEL ORTIZ to unleash this vile tale of misery and mischief in the all-new over-sized Crossed 2014 Annual! Ah, the English countryside! Tweeting birds, friendly vicars, crumpets and jam: the peaceful rural idyll. The cow?s in the dairy, the dog?s in his bed and there?s a fat asthmatic kid hiding up the old tower. Also: a mob of Crossed lurking near the duckpond ? quaint and friendly sadists who want nothing but to eat your face off and violate your skull ? and nobody but the withered old farmer?s wife to stop them. Problem is, she?s Crossed too. And insane. Can old Wheezy play them all off against each other long enough to escape? SUCH JOLLY LARKS.
Crossed: Badlands #52
PRODUCT DESCRIPTION: For over five years fans have followed GARTH ENNIS?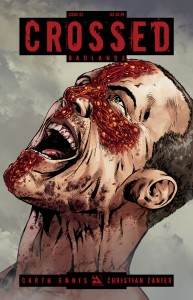 masterful horror series wondering how it all began. Now in an underground bunker, the remains of the British government must try to work that out themselves. How far has it spread? And how? In this world full of monsters, there is no help.
Gravel: Combat Magician #3
PRODUCT DESCRIPTION: On a clandestine mission to Tokyo to clean up the mess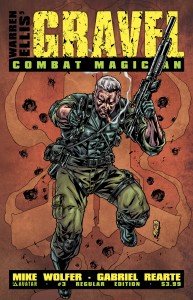 created by another British Combat Magician, Gravel must find the rogue madman or risk an international incident. But once he comes face-to-face with his occult-powered foe, the seasoned veteran will find that the green trainee has brought something with him from England, something which makes him impervious to harm. In the underground subway of magical horrors, Gravel's only hope is to use his head, which has never been one of his strong points, and even if he survives, a far greater threat to his life awaits in the darkness!
Uber #11
PRODUCT DESCRIPTION: The explosive end of the second arc turns everything you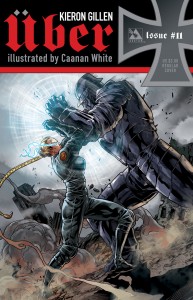 know upside down! This issue is what this has all been building towards – Hitler's secret plan, Churchill's massive new Ubers, and a stunning assault that threatens to change the face of the war. Prepare for one jaw-dropping shock after another as Kieron Gillen's masterpiece rockets into high-gear!
Be sure to check out the Living Dead sale this week to save up to 55% off exclusive digital bundles: ?https://www.comixology.com/Save-On-Avatar-Living-Dead-Bundles/page/1381