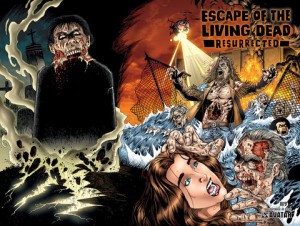 As the Halloween holiday gets closer and closer, horror fans begin to break out the classic movies and comics to get into the spooky spirit.  One of the forgotten classics of yesteryear is the Escape of the Living Dead.  This brain munching story brings Night of the Living Dead co-creator, John Russo's vision for a sequel set just years after that fateful night.  Illustrated by horror legend Mike Wolfer this oversized trade paperback collection delivers a masterful story of terror that will perfectly add to your Halloween festivities.
ESCAPE OF THE LIVING DEAD RESURRECTED TPB
PRODUCT DESCRIPTION:  1971: Three years ago, a blood-soaked night of terror began when the dead rose from their graves to devour the living.  And for three years, horrible experiments have been taking place deep inside the concrete walls of a secret medical facility.  Now, the untimely intervention of unwitting authorities sets events into motion that will unleash the dead to walk among the living again.
This time, can anything possibly stop the gut-ripping tide of carnage that rises again with the Escape of the Living Dead?
You can find the Escape of the Living Dead  Resurrected TPB at local comic shops, at Amazon, or at http://www.comcav.net/products/escape-of-the-living-dead-resurrected-tpb.