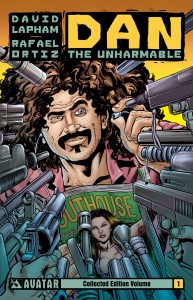 All too often comic fans feel like they are stuck in a rut.  Its the same thing every week from the big publishers and every once in a while you just need something wholly original to break it up.  Fans of David Lapham are used to reading powerful stories of crime and horror in his works.  But they probably aren't used to reading about an indestructable lazy deadbeat dad who prefers a quiet night on the street to a luxurious get away.
Dan The Unharmable is a one of a kind psychedelic ride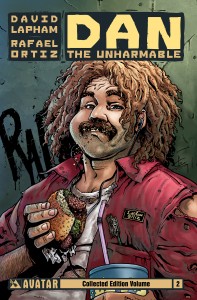 through the surreal.  The one thing you can be sure of is that you have no idea what colorful villain or killer is going to pop up around the corner and force Dan out of his sweet spot lounging in the gutter.  This is the story of the ultimate dude finding out that though he can't be hurt, the kids that have wormed their way into his life can be.
If you are looking for that unusual book to break up the comic rut – definitely ask your local comic shop to reserve you a copy of the Dan The Unharmable trades.  The single issue are also available on ComiXology digitally.