Release Info

---

Store

---
Titles
Joe R. Lansdale's By Bizarre Hands
Alan Moore's Hypothetical Lizard
Steven Grant's My Flesh is Cool
Joe R. Lansdale's The Drive-In
Warren Ellis' Strange Killings: Strong Medicine
Alan Moore's Writing for Comics
Alan Moore's Another Suburban Romance
Joe R. Lansdale and Tim Truman's Dead Folks
Warren Ellis' Strange Killings
Garth Ennis and John McCrea's Dicks
Fantastic Visions: The Art of Matt Busch
<%radio.macros.staticSiteStatsImage ()%>
Dheeraj Verma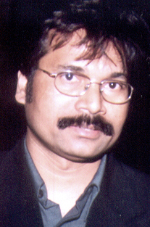 With a detailed line that combines an international flair with an American comics sensibility and 10 years experience as a comics professional, Dheeraj Verma is already a star creator in his home country of India and will soon be a rising star with his work in the U.S. set to debut in 2004.
"I started my career in comics in 1993 in India," says Dheeraj, "In 1994 I joined India's number one comics publisher as a penciller and never looked back. I did at least 150 comics during my tenure there, and over 250 covers. I also introduced digital coloring to India in 1996."
Having established himself as the top penciller in India, Dheeraj began to broaden his artistic horizons. "In June 2000 I joined India's leading game company as a Sr. Visualizer and learned a lot there," he explains. "But I decided my goal was to work in comics on an international level, and now I am making those dreams come true."
Dheeja's debut work from Avatar is scheduled for May 2004 with Joe R. Lansdale's By Bizarre Hands.
Creators
---
Avatar